1) What is  a Fire Extinguisher ?
A fire extinguisher is an active fire protection device used to extinguish or control small fires, often in emergency situations.
They are not intended for use on an out-of-control fire, such as one which has reached the ceiling, endangers the user (i.e., no escape route, smoke, explosion hazard, etc.), or otherwise requires the expertise of a fire brigade. Typically, a fire extinguisher consists of a hand-held cylindrical pressure vessel containing an agent which can be discharged to extinguish a fire.
All commercial, retail and industrial buildings should have the correct fire extinguishers in place and also the relevant training should be provided to ensure correct use of an extinguisher should an emergency arise.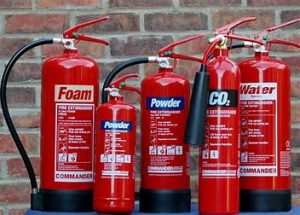 2) What is a Fire Blanket ?
A fire blanket is a safety device designed to extinguish small fires that have just started.
They consist of a large sheet of fire retardant material which is placed over a fire in order to smother it and starve the fire of oxygen.
Small fire blankets, such as for use in kitchens and around the home are usually made of fiberglass and sometimes kevlar, and are folded into a quick-release contraption for ease of storage.
These nonflammable blankets are helpful in temperatures up to 900 degrees and are useful in smothering fires by not allowing any oxygen to the fire. Due to its simplicity, a fire blanket may be more helpful for someone who is inexperienced with fire extinguishers.
3) Vehicle Fire Extinguishers
These specific type of extinguishers are normally far smaller than a commercial grade and can be installed under the passenger seat of a car or can be placed in the glove box.
When deployed they provide a fast, effective and powerful foam spray. The foam forms a seal over the surface to prevent re-ignition. Also suitable for fires involving wood, paper or textiles.
For further information regarding Fire safety please get in touch.
J.Fairbotham
West Midlands Security and Fire
Proud members of the British Fire Protection Association